Schneider's Awkward Objects
Review of Awkward Objects in the Hastings Independent

Gareth Stevens – November 1st, 2019
Schneider's work sets a heady spirallic mix of intertwining themes against a more quiet calm air of completion and resolution and it leaves the viewer with a dissonant sense that she is both lost and found.
"The tendency of lost travellers to go round in a circle was developed in her to the degree of passion." So wrote Robert Louis Stevenson in his account of travelling with a donkey around Cévennes region of southern France in the mid 19th century. This quote which actually features on the surface of several of Schneider's works, speaks volumes about her creative process.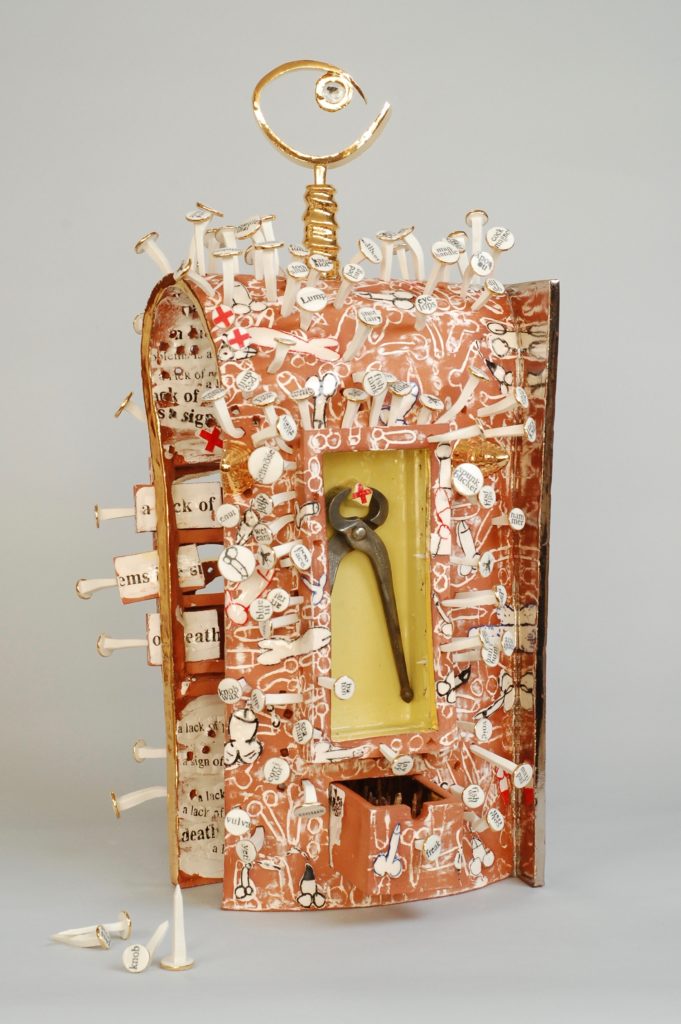 Her punk-baroque sculptures meld many ideas and material processes and rhetorically shove us to consider ideas in a fresh way. The pieces revel in friction and contradictions, they ride the boundary between a range of binary opposites in a way that invites speculation and tests our powers of interpretation. They have an implicit humour that sits uncomfortably with the undeniable sophistication and technical ability inherent in her work. However it is this very discomfort that gives the work such value and that makes it outstanding.
Growing up in East Berlin, Schneider went onto study experimental film and performance at Hochschule der Kunste in West Berlin before moving to London in 1998. Shortly after her artistic practice was put on hold whilst she focussed on her family. After this domestic hiatus she wanted to regenerate her creative career, and despite having a background in 'alternative practice', she decided to study a more traditional and functional form of ceramics. More importantly she wanted to switch to a more craft based and immediate material medium. It wasn't long before she found herself amongst a whole swathe of other London based potters flooding an already full market with artisan tableware. Soon a restless urge to do something different, led to a decision to deviate.
Art of any note probes and questions a part of our intellect not wholly restricted by language. In appropriating the processes and techniques of functional ceramics to the domain of sculpture, Schneider tells us of her terms and conditions; of her deep propensity to nonconform and her desire to depart from established norms.
The piece 'Nailman' is the centrepiece of the exhibition. Masterly crafted it epitomises her current concern with language, her mischievous attitude to sexuality and the relationship between suffering and salvation. Beyond ambitious it combines earthenware with porcelain, a delicate surface design by way of skillfully applied slip transfers, dead flies and the occasional pair of tongs. Visual puns are brought together with references to religious iconography and the surrealist sculptures of Man Ray to form an almost hysterical yet composed amalgam that both disturbs and enlightens.
Schneider insists that there is no one way to see her work. She doesn't live by the rules and is not into a narrow prescriptive way of communicating a narrative. These incredible and dignified objects speak of things usually unsaid. They are loud and demand we visit places beyond routine.
This experience really got me going in a way that any exemplary exhibition of contemporary Art should and is again a testament to the fresh inspirational and tireless curatorial efforts of Kenton Lowe at the BlackShed Gallery in Robertsbridge.
THE SUN CAME DRIPPING A BUCKET FULL OF GOLD
Supporting text for upcoming exhibition at blackShed gallery
12. September – 2. November 2019

Andrew Kötting – LOUYRE – French Pyrenees – Summer 2019
What are these objects?
Where have they come from?
Why are they with us?
Who made them?
Can you eat them?
This is how the work musters:
Mysterious and beguiling.
Voodooesque.
Dangerous.
Touch them at your peril.
Excavational artefacts from a Grayson Perry meets Banksy dig.
What finds.
What treasures.
Milagros or votive offerings from a Mexican Day-of-the-Dead gathering.
Schneider has made them but,
Who is Schneider?
What is Schneider?
Where is Schneider?
Cultural noticer, interloper and psychogeogeographer.
Russel Hoban's 'Ridley Walker'; talker and word collector: spunk bucket – blue tit – get a proper job – déviation – commit no nuisance – shabby truth – wankstain – interdit aux nomads et gens du voyage – trumpcock – snot fairy – yeti ….
Phraseplay the motor that drives the juxtaposition and repetition.
Acerbic and jam-packed with wit.
Sculptural billboards of contemplation.
Fragmented narratives collaged into form.
Precious objects.
'Familiars' of form.
Perverse of content.
Anarchic Dadaist and Punk.
So much more than just decoration.
Never smooth and complete within the traditional sense of potter, these objects are unpredictable and unfathomable.
But their unfathomability will become their legacy.
A Pandora's box of possibility and titular titillation:
'Small boat of desperate people'….
'Passionate error – Shabby truth'….
'But at least the nature of your madness entertains me'….
'Trough of knowledge'….
Schneider is a force of nature, this exhibition obfuscates meaning and transcends interpretation.
Come experience the powerful collagic magic that is Awkward Objects.
PS – From Samuel Beckett's letters 1966-1989:
Didn't have the courage to go to Godot last night. I'm going this evening, with Schneider by my side…. AND I'm reckoning to be able to do serious work with Schneider this week….